How many times have you thought... "If I could just find a product that. . .?" Now you can!
A unique line of standard products are anything but usual! Made of neoprene, they can be shaped to represent any logo, or available in stock shapes that, with custom artwork, give your client a distinct design.
Ready to make things together? Neoprene offers durability, cushioning, softness, weatherproofing, flexibility, printability and thermoregulation, making it an excellent choice for applications that require protective measures and long wear, yet are lightweight and unobtrusive. Here, we show you applications for the top five promotional product markets named in Counselor magazine's 2016 State of the Industry report. It's easy! Solve your customers' pain points with a unique stock item or custom product.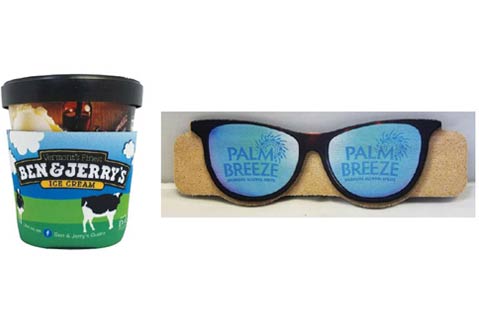 EDUCATION, SCHOOLS & UNIVERSITIES
Make school pride stand out with beverage insulators in stock shapes with a team's colors, such as a unique Full-Color Can Jersey, Tall Bottle Jersey or Hoodie. Custom ideas: Flexible protective neoprene textbook covers make excellent promotional outreaches for publishers selling to teachers, professors or librarians, and fix torn and aging textbooks. University sports teams open the door for unique padding and accessories for equipment and uniforms. Don't forget Greek life on campus: fun beverage coolers are key. Neoprene beverage koozies make great giveaways among Greek organizations on campus.
HEALTHCARE & MEDICAL
Hospitals, rehabilitation facilities, nursing homes and medical supply companies have unique needs. A range of stock neoprene collapsible and sleeve insulators are useful for keeping liquids cold in healthcare settings. An Insulated Carrier Tote can transport medications at cool temperatures. Custom ideas: Equipment such as wheelchairs, for example, can be uncomfortable and cause sores on patients with longterm use. Custom-fit foot pedal covers, arm-rest cushions and leg protector pads put a provider's service information at hand while providing comfort. Oxygen tank covers provide thermoregulation, and cushioning and can be printed in a cheery design. Insect-repelling Bug Ban Bracelets encourage recipients to walk more for wellness.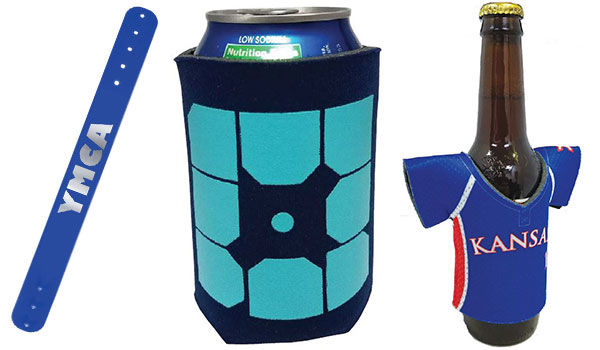 MANUFACTURING & DISTRIBUTION
Shaped Slap Beverage Wraps are ideal promos for introducing new products to distributors, e.g. a new car model to dealers. In manufacturing settings, look for safety applications for stock items such as the unique neoprene full- and halfface masks or reel covers for equipment. Either could be modified for circumstance. Custom ideas: Tools and equipment used in manufacturing may require fitted covers or weatherproofing. Safety issues may present an opportunity to create a custom product, such as neoprene gloves to give workers a better grip. In distribution, any products that are breakable or temperature-sensitive will benefit from customized foam and neoprene packaging. Specially outfitted sales kits sublimated with full-color graphics highlighting product features will make distributors' jobs easier. Give delivery drivers and warehouse managers a hand with branded beverage insulators.
FINANCIAL & INSURANCE
Neoprene makes an excellent surface for a counter mat where checks can be signed and money counted. Stock items include Full-Color Neoprene Desk Mats and Mousepads, which can be used at customer service desks. Client gifts are important: Tie into the idea of long-term investment with the gift of finely aged wine in a custom-decorated Neoprene Wine Tote. Custom idea: Create a gift from an advisor to a client when making important life decisions. A organizer, neoprene sleeve to keep important documents, a flash drive, photos, a passport and more would be useful and kept for the long term. Wine sleeves are great thank-you gifts for clients in these sectors.
RESTAURANTS, TRAVEL & LODGING
The ability of foam and neoprene to keep cold products cold makes the materials ideal for food distributors servicing restaurants. Items such as neoprene ice cream pint sleeves, tumbler sleeves, lunch totes and six-pack totes are quick solutions. Neoprene bar mats and coasters are also stock staples. Custom ideas: Tools of the trade like knives can be kept safe and sharp in a chef's carrying case. Also think of ways to make traveling more pleasant: neck pillows, eye masks, head-rest covers and custom-fitted camera cases. Rental properties can use neoprene-covered lock boxes to prevent scratches on doors. Custom lunch totes are great giveaways for hospitality patrons.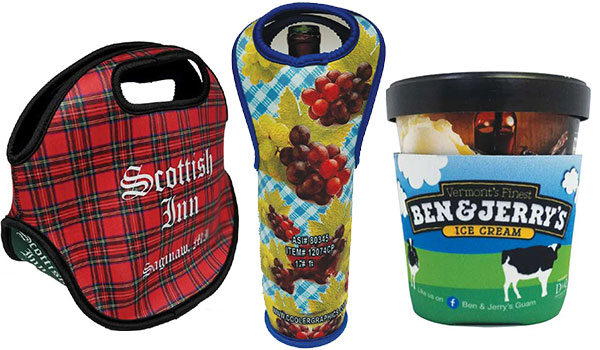 STOCK ITEMS WITH A CUSTOM LOOK
Sometimes your client wants a unique product, but the deadline doesn't allow you to start from scratch. You can offer a custom-looking solution in a short amount of time if you pick a stock product that's sufficiently distinctive. That's why Cooler Graphics constantly adds fresh ideas to its stock items, such as its popular Neoprene Ice Cream Pint Sleeves, Fishing Reel Covers, Shaped Slap Beverage Wraps and Face Masks.
Challenge clients to give you their most vexing problem.
Source: Advertising Specialty Institute