Industry distributors grew annual sales by 3.1% in 2016, resulting in a record $22.9 billion in total revenues, according to new data released by ASI. The gains mark the seventh consecutive year of overall growth. ASI's latest survey also found that distributors increased sales by 3.4% in the last quarter of 2016. Meanwhile, the Counselor Confidence Index, which measures the health of distributor companies, improved slightly in Q4 2016 to 115, from 113 in the previous quarter. This ties Q1 of 2015 for the highest-ever index rating.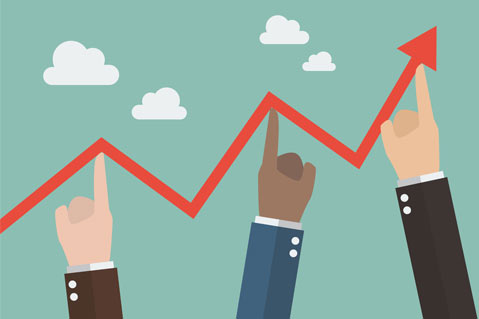 Chris Faris, president and CEO at Boost Promotions (asi/142942), attributes the industry's growth, specifically in the fourth quarter, to the presidential election. "Trump really understood the power of promotional products. He came from that background of personal branding," said Faris, whose company increased sales year-over-year by 18% in 2016.
More than one-third (35%) of distributors reported an increase in sales for Q4 2016 versus Q4 2015, and 42% reported a revenue uptick for all of 2016 when compared to the prior year. The ASI study also found that more larger distributors (greater than $1 million in annual revenue) than smaller firms ($250,000 in revenue or less) enjoyed Q4 gains. About 45% of large distributors reported a fourth quarter sales increase compared to only 28% of small distributors.
"I'm not surprised that the larger distributors did better than the rest of the field," said Mitch Mounger, president and CEO of Top 40 firm Sunrise Identity (asi/339206), which grew 2016 sales by 33%. "I am a little surprised that the industry grew as much as it did. Most of what I have been hearing from other distributors and suppliers suggested that the market would be flat."
Gregg Emmer, VP and CMO of Top 40 distributor Kaeser & Blair (asi/238600), believes that large distributors are growing because they've been gobbling up the market. "The market for promotional goods is a finite one," he said. "We didn't create any more volume – we just moved market share."
Faris agrees and thinks the industry has more work to do to really generate significant future gains. He worries sales increases will be capped until firms get more creative and progressive. Right now "it's not new business being generated as a whole, it's companies consolidating and taking business away," he said. "We continually win new accounts based on different factors, but it's not creating more revenue in the industry, just more revenue for Boost."
Moving forward, Emmer believes the hostile climate surrounding the new White House administration will hinder the promo industry in the next six to eight months. "We try to get the message out there that we can move the economy, help businesses be more profitable and put programs in place that decrease your need to hire and retrain," he said. "But when you hear people are rioting in the streets and airports are shutting down, it makes our message more difficult to be believed. If [businesses] don't believe we can produce great outcomes in a negative environment, they won't buy from us."
Mounger, conversely, expects 2017 to be a strong year for his firm and the promo products industry. "We are projecting modest growth of 10% in 2017, but I would not be surprised if we do better than that," he said. "I expect the Trump tax reduction to spur spending for many of our clients."
Source: Advertising Specialty Institute