Win over high school and college kids with the latest apparel trends.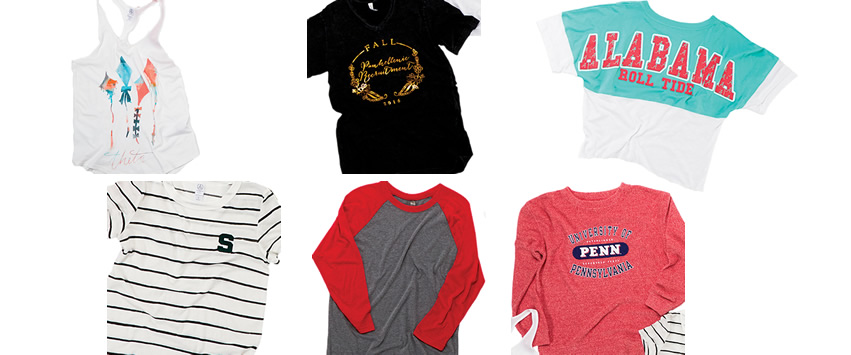 Bright Graphics: Today's graphic designs are clean and simple, and yet appropriately colorful and never boring.
Hand-Written Fonts: Creative text elements combined with decorations like rose gold foil are a simple-but-enchanting combination.
Oversized: A hit with girls, it now comes in a handful of varieties, including short sleeves and hoodies.
Subtle Branding: Left-chest logos are being embraced by this younger demographic, and hand-stitched embroidery adds a unique charm.
Unisex: As women move away from skin-tight shirts, both men and women become more comfortable with fitted unisex options.
Fabric Variety: There are more options than ever beyond 100% cotton, and the latest garments offer heathered and vintage looks that are insanely comfortable.
The Logos They Will (And Won't) Wear
"Millennials can't stand logos" Business Insider declared a year ago. "Teens don't want to wear logos anymore," asserted Bloomberg this past fall. What logos are they referring to? Retail brands like Abercrombie & Fitch and Aeropostale that splayed their names as big as possible – and then watched as millions of kids (and their paying parents) eagerly paid up for over a decade.
Now, in a quest to concoct their own style and avoid brand similitude, teens gravitate toward fast fashion lines such as Zara and H&M that eschew logos. Meanwhile, dozens of retail apparel brands are playing catch-up by de-emphasizing their logos as their bottom lines take a beating.
The pressing question: With an entire industry founded on the very notion of displaying logos, are promotional product companies now hopeless to entice the likes of Gen Y and Z?
Not exactly, say distributors and suppliers who work closely with the college and teen markets. "If you look at those brands like Abercrombie, they're failing, and they're trying to figure out what's making them fail," says Tony Poston, president of College Hill Custom Threads (asi/164578). Hot younger brands like Vineyard Vines, Southern Tide and Patagonia, he adds, "are putting prominent designs on shirts, and those are selling like hotcakes."
Still, industry apparel companies are rethinking the design aesthetic for this age range. "We have seen a shift away from big, bold logos," says Ashley Holbrook, marketing specialist for Kotis Design (asi/244898). She describes a "less is more mentality" that includes the use of hand-drawn fonts, subtle custom woven hem labels and a renewed gravitation to left-chest embroidery.
High school and college students will proudly display their allegiance to a brand or group – but only if there's a story they can align with, rather than a retail aesthetic that allows them to fit in. "It's more about the cause and the why of the company," says Kevin Ostromecki, a 22-year-old Philadelphia-area resident who started the merchandise brand Altix Clothing at 18.
Source: Advertising Specialty Institute